Silkybay® & EcoSnug®
Luxury & Affordable
Wrap Your Dream with Silkybay!

20% refund store wide - when purchase 149 and more before tax!

Free shipping Across Canada for order $149 and more!

Mystery Special Saving Shipping Rate to USA!
(See it when you checking out!)

Click Here **ORDER ONLINE** Now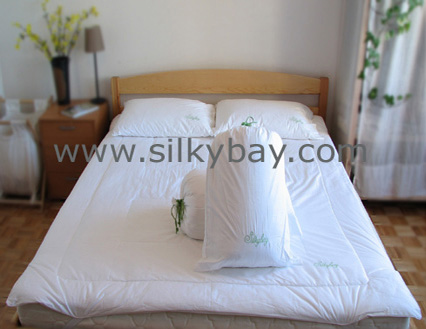 Silk is the finest natural fiber because of its incomparable and unique ecological vitality. It is also often called the "Queen of Fibers".
One kilogram of silk is produced by 6000 silkworms, after consuming 200 Kg of mulberry leaves. Silk bedding is pre-eminent in benefiting human being's ecological balance and the environment protection. Silkybay® bedding products are all hand-made with 100% fine new long mulberry silk fiber and our dedication to a better and healthier life for everybody. With the Production base in ZheJiang China, which has a silk production history for more than 4700 years, Silkybay® Corp is presenting the most respectful business into the Northern American market
Special features of Silkybay® silk bedding products are:
Outstanding ability to regulate temperature which keeps you warm (but not overheated) in winter and cool in summer.

Excellent moisture absorbency and aeration can instantly absorb and gradually transfer extra body moisture away which eventually keeps you appropriately dry during the sleep.

Alleviation of skin's aging process and allergy to uncomfortable contact, over-dryness, dust and duck/goose down.
A sound sleep is becoming a luxury to more and more people. By creating a soothing, natural & healthy sleeping environment, we can help you gain your baby sleep back. Do not hesitate any more, try and enjoy this intimity with pure silk.